Branch Blog - Norwich, UK
Since launching our branch in January this year we have had a really exciting time concocting fabulous cocktails of cabaret and life drawing. There have been contortionists, magicians, players of the musical saw, actors and world class burlesque performers all rolled in to a felt tip...
Read Full Article
Well, our first Dr. Sketchy's was a great success. We had an absolute hoot of time with our lovely models, burlesque beauty A'dora Derriere and hula hoop extrodinnaire Daisy Black, who brought an appropriate amount of sparkle and fizz to the evening. The support shown by the local art...
Read Full Article
RSS
NYC Events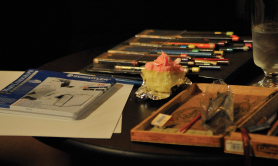 Art Tumblr
https://vimeo.com/81362468