Branch Blog - Norwich, UK
Mon, February 04, 2013 • And so it began.
Well, our first Dr. Sketchy's was a great success. We had an absolute hoot of time with our lovely models, burlesque beauty A'dora Derriere and hula hoop extrodinnaire Daisy Black, who brought an appropriate amount of sparkle and fizz to the evening. The support shown by the local art community was fantastic, we had such lovely drawings at the end and the girls found it quite difficult to choose the winners. Please see our gallery for images which were taken by the lovely Dan Jocelyn http://portfolio.jocers.com/
Daisy wrote about her experiences of modelling for us for the online publication Vintage Norwich. To read the article please follow the link"http://www.vintagenorwich.co.uk/2013/01/dr-sketchys-anti-art-school-norwich/ We can not wait to get going with our other events! Our next shin dig will be on Wednesday the 27th February with Sophia St. Villier and Nick Murray Brown at the Unthank Arms
We hope to see you there!
RSS
NYC Events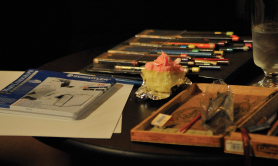 Art Tumblr