Branch Videos - Wellington, New Zealand
Videos
On a sunny October afternoon during a Zombie apocalypse Dr. Sketchy hostess Rachel Rouge in a mixing of metaphors stands aside, steps down and hands over the running of the Wellington branch to the utterly lovely Miss Grace La Belle. The initiation involved Grace agreeing to the fundamental principles of the Dr. Sketchy manifesto and promising to keep the Wellington branch going.. we know that she will make it even more sparkly. Grace received the Dr. Sketchy Wellington mascot, Mackay, a plastic dog lamp that has traveled from Switzerland, to Scotland and all they way to New Zealand, and now spends every month sitting on the corner of the Dr. Sketchy stage watching beautiful models and talented artists. Welcome Grace, we are delighted that you decided to join the Dr. Sketchy family.
6 lovely ladies got together and had an awesome time creating choreography, designing costumes, stretching, cart-wheeling, and talking about knickers, this was the result. Yee-Ha!
Anastasia performs a beautiful tribute to Michael Jackson (to whom she is a dedicated fan) at Dr. Sketchy Wellington on 11th July 2009.
The utterly fantastic One Night Stands sing "Big Spender" at Dr. Sketchy Wellington, May 2009. These gals are stunning!
Dr. Sketchy Wellington was delighted to have the fabulous One Night Stands giving us a taste of their cheek and their talent. We loved them!
The sensational burlesque bombshell Venus Star performs a superb fan dance at Dr. Sketchy Wellington, April 2009. Wow!
The beautiful and elegant Ponie Ryder performs a clasic striptease at Dr. Sketchy Wellington, April 2009. The amazing costume was handmade by renown New Zealand costumer Flo Foxworthy.
RSS
NYC Events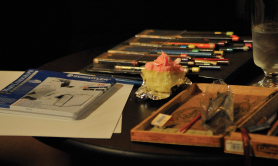 Art Tumblr
Dr Sketchy LA 12-3-13
http://drsketchy.tumblr.com/post/69027079376