Branch Blog - Auckland, New Zealand
Wed, March 14, 2012 • Auckland artists call for the Japanese Arts Festival
Hey Sketchers! Here's a wee treat for you, submit your artwork & be part of the Japanese Arts Festival 2012 at the Aotea Centre from 30 March - 1 April!
The festival's main objectives are to bring Japanese artistic culture to New Zealand and provide grounds for local and Japanese artists to network and showcase their artwork.
80 Japanese artists will be contributing artworks as well as over 50 local artists and over 240 creations will be on displau. 8 Japanese artists will be making their way to Auckland especially for the event.
Mediums on display are extremely varied, from traditional painting, multi media, sculpture, paper cuts, calligraphy, photography, digital and many more.
This is a fantastic opportunity to show your work and the event will be covered and advertised widely throughout Auckland, NZ. If you are interested in submitting artwork for exhibition please email:
SUBJECT: Exhibition Submission, your name, and 1 or 2 samples of your work by 20 March 2012 to organiser Yoshi Oghi.
Email: [email protected]
Spaces are strictly limited. Board hire fee applies. Board size 1.2m W x 2.3m H.
Dr. Sketchy Auckland will be showing their faces for a special Dr. Sketchy session also. Stay tuned for more details.
RSS
NYC Events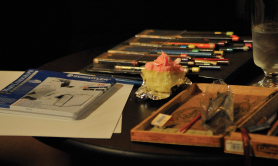 Art Tumblr
https://vimeo.com/81362468