Branch Blog - Wellington, New Zealand
Sun, January 02, 2011 • WORTHY OF MENTIONING: Big thank you to all who made 2010 awesome
Dr. Sketchy Wellington is going to chill out by the beach, we'll see you back on February 12th for more fun, laughter, frivolity and of course drawing. Have a brilliant summer break! We would like to say a few thank yous to some of the many people who helped make 2010 super rockin.
First and foremost our fabulous audience, without you we are just a bunch of incredibly attractive people dressed beautifully sitting still on a stage for no reason, you are the reason we do what we do... you complete us. Big thanks to the 2010 models:
February
- Tango Sensation Courtney La More and sublime ballerina Miss Kiss Kate
March
- Burlesque Queen
Miss La Belle
, adorable Shanghai Rose and delightful Cheri Moya
April
- Bellydancer Anastasia and comedic actress Lady Tata
May
- Sexy masked luchador
El Jaguar
and his hot ex-wife Esposa X
June
- Hula hoopist Lady Hoopla and drag queen of queens Felicity Frockaccino
July
- The amazing retro dance troupe the
Real Hot Bitches
August
- Burlesque babe Eva Strangelove and pole dancing genius Sonis Hendry
September
- Elegant creature the Avian Belle and swell 1940s gal
Miss Girdle Buster
October
- Burlesque blonde bombshell Venus Star and super hot Tinka Lovelocks
November
- Feminist theatre troupe MINGE
December
- Gender bending faux drag queens the Lady/Man/Ladies Thanks to our brilliant photographer Alastair Moore who has been amazing. And of course big hugs and inappropriate fondling to the fabulous designers and illustrators who created
posters
for us over the past year. You guys bring joy to our souls. We look forward to a brilliant 2011. Whoo-Hoo!
RSS
NYC Events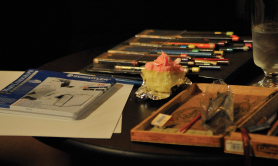 Art Tumblr
Dr Sketchy's LA 12/3/13 (pt. 1)
artofach.blogspot.com
http://drsketchy.tumblr.com/post/69132640329