Branch Blog - Wellington, New Zealand
Thu, October 27, 2011 • Coming up in Wellington: Bella Rose and Ellie Kat
New Dr. Sketchy Wellington manager Miss La Belle is delighted to present an entwining of the feminine and masculine, the blending of the exotic and the sublime from 4pm to 7pm on Saturday, November the 12th.
Two stunning performers:
Bella Rose, tempting mistress of sweetness and spice blending bellydance and burlesque. Bella first performed at Dr. Sketchy in 2009 opening the Sketchy and as part of the Rouge Rogues can-can troupe, her skills as an artist and costumer perfectly compliment her performances.
Ellie Kat, is one of New Zealand's most exquisite drag performers. She is a tempting blend of strength and beauty. Miss Drag Wellington 2007 and one of the infamous Glamazons. Ms Kat is a sensuous and polished drag experience.
The perfect blend of toned muscles and smooth curves.
The perfect balance of performance and drawing.
The perfect afternoon of drink, prizes, music, art and fun.
You know the time: 4-7pm
You know the place: Mighty Mighty, upstairs 104 Cuba Street
You know what to bring: your pencils and paper
You know how much: $14/$12
You know where & when to get tickets: on the door or at Calico Jacks from a week before
You know it's awesome goodtimes.
RSS
NYC Events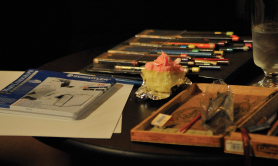 Art Tumblr