Branch Blog - Wellington, New Zealand
Tue, March 20, 2012 • Coming Up in Wellington - Dr. Sketchy goes Steampunk
Steampunk is the intersection of technology and romance. It's fashion, an aesthetic, a genre of fiction, a musical style - according to Steampunkworkshop.com.
Take one part industrial age, one part Victorian England, add some futuristic Sci-Fi elements (such as ray guns) and you have Steampunk. Well, as you can tell it's not quite as easy to describe - and that exactly is why you should come down to Dr. Sketchy Wellington on the 14th April, 4pm to 7pm, at Mighty Mighty (109 Cuba Street). $14 (or $12 if you have a student/community services/Grey power).
Joining us for a delightful afternoon full of Steampunk frivolity is the mystical and mysterious LadySin belly dancer, joining her is a beautiful and bewitching Burlesque dancer MisRed. All eloquently announced by mistress of ceremonies, Mdme. Crystal Mischief.
Prizes to be won from wonderful sponsors - Dittybox Gallery, The Vanity Case, Calico Jacks, Baby Tattoo Books and many more.
You bring the pencils and paper we'll supply the performers, prizes and pizazz! Put a rustle in your bustle, and be sure not to miss out on such a spectacle.
RSS
NYC Events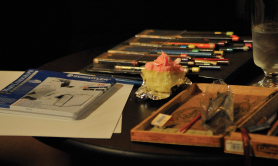 Art Tumblr