Branch Blog - Wellington, New Zealand
Sun, December 05, 2010 • COMING UP IN WELLINGTON: The Lady/Man/Ladies
December's performers are the fabulous Lady/Man/ladies! Wellington's top faux queens!
Illustration and design my the uber delightful
Gavin Mouldey
who has
amazing
blogs
Yes, they are ladies, (not Gavin, we're talking about the Lady/Man/Ladies here) dressed as men dressed as ladies… no wait, better than that, more than that: they are ladies, dressed as drag queens! They are hot, sexy, over-the-top and fabulous! and they can sing! At the risk of overusing my allowance of exclamation marks in one blog post these two performers and sensational! The women behind the queens behind the ladies behind the men are Carrie Green and Jacquie Fee, two fabulous Wellington performers known for their breathtaking singing, dancing and costumery. We are delighted to welcome Carrie for the first time to the Wellington Sketchy stage and to have back Jacquie how performed with the One Night Stands in May of 2009, you can see her sing on our
videos page
. We can't wait!
RSS
NYC Events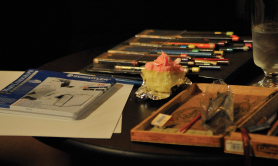 Art Tumblr
Dr Sketchy LA 12-3-13
http://drsketchy.tumblr.com/post/69027079376