Branch Blog - Wellington, New Zealand
Mon, June 27, 2011 • Coming up in Wellington ladies from Miss La Belle's House of Burlesque
Wellington's incredible dancer, performer, teacher, blogger and all round fabulous gal
Miss La Belle
presents three lovely ladies from Miss La Belle's house of Burlesque.
Poster by Carys Lloyd This Sketchy is guaranteed to delight and tickle your fancy. Miss La Belle brings with her not only an amazing troupe, but also her oodles of sass and the most infectious giggle in the city. We are honoured and delighted to have hand picked beauties from Miss la Belle's very own collection.
And the delicious cheery to this already tasty line up is our host and MC for the afternoon
Sadie Von Scrumptious
. Sadie also writes a fabulous
blog
and also created the Frolic Lounge poster below. Come into the voluptuous atmosphere of Mighty Mighty bar, upstairs at 104 Cuba Street. Sharpen your pencils and take a seat from 4pm until 7pm. You will be greeted with swinging hot tunes, a fully stocked bar, fun competitions for fabulous prizes from Calico Jacks and other amazing places. You bring the pencils and paper we'll supply the performers, prizes and pizazz! Tickets on sale at Calico Jacks on Ghuznee St from a week before, or on the door: $14 (or $12 if you have a student/community services/Grey power/Radio Active card). The July Dr. Sketchy Wellington comes a week after Miss La Belle's Frolic Lounge at the Garden Club, check out their
Facebook event
for more information.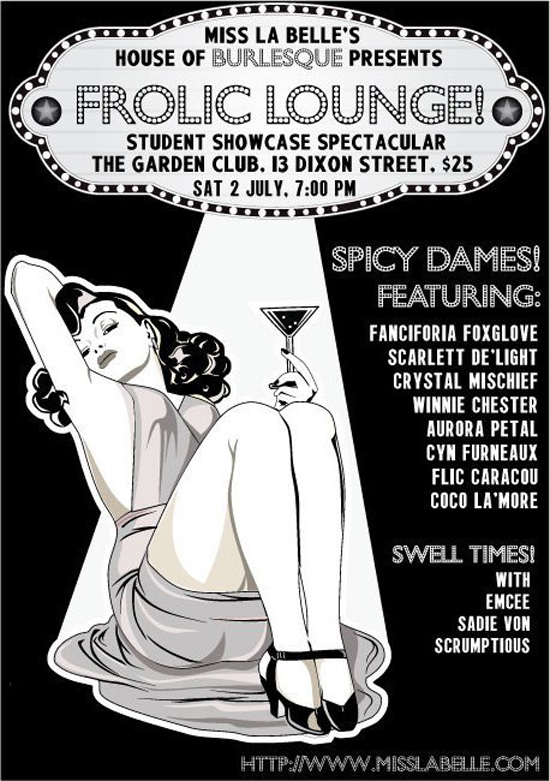 RSS
NYC Events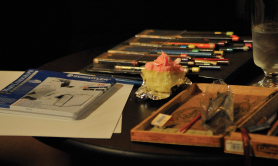 Art Tumblr
https://vimeo.com/81362468