Branch Blog - Wellington, New Zealand
Thu, March 31, 2011 • COMING UP IN WELLINGTON: Richter City Roller Derby
Dames, Drink and Drawing meets Brains, Beauty and Bruises.
Richter City Roller Derby
comes to Dr. Sketchy Wellington!
Poster by Rachel, with illustration based on
Jed Soane
's
photo of Suffer Jet
On April 9th Wellington's awesome monthly cabaret life-drawing event welcomes for the first time Wellington's formidable Roller Derby league for an afternoon of drawing fun. This month Dr. Sketchy Wellington laces up the skates, straps on the kneepads and gets ready for the fierceness that is Richter City Roller Derby. The international Roller Derby revival has coincided with the growth of Dr. Sketchy's. Dr. Sketchy's the world over have used Roller Derby girls as models. The two movements share a lot of common ground: incorporating styling and attitude to take their event to the next level, being inclusive and celebrating all walks of life, and having a hell of a lot of fun. Come into the voluptuous atmosphere of Mighty Mighty bar, upstairs at 104 Cuba Street. Sharpen your pencils and take a seat from 4pm until 7pm. You will be greeted with swinging hot tunes, a fully stocked bar, fun competitions for fabulous prizes from Calico Jacks and other amazing places. You bring the pencils and paper we'll supply the performers, prizes and pizazz!
Tuff Bikkies photo by
Jed Soane
Tickets on sale at Manky Chops Gallery (166a Cuba Street) from a week before, or on the door: $14 (or $12 if you have a student/community services/Grey power/Radio Active card). Richer City's home season starts Saturday 16th of April with a triple header bout. 7pm at the TSB Bank Arena. $15/$13 presales. More information on their
website
and their
Facebook page
.
RSS
NYC Events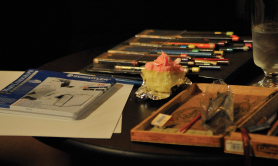 Art Tumblr
Dr Sketchy's LA 12/3/13 (pt. 1)
artofach.blogspot.com
http://drsketchy.tumblr.com/post/69132640329