Branch Blog - Auckland, New Zealand
Thu, March 07, 2013 • comiXology - a new way to self publish comics & graphic novels
Some exciting news arrived in my inbox today. A chance for all you wonderful artists & budding comic creators to get your work out into the big wide world & find yourself an audience.
Just launched via SXSW, comiXology is a digital comics platform which aims to get self published comics out to the masses via iPad, iPhone, Android, Kindle Fire, and Windows 8 apps. Creators split the profits equally with comiXology and retain full ownership of their work.
We hope to see some of our Sketchy regulars self-published very soon! You can thank us by gifting us a sweet signed sketch of your overlords Leda & Lilly.

RSS
NYC Events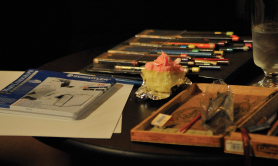 Art Tumblr
Dr Sketchy's LA 12/3/13 (pt. 1)
artofach.blogspot.com
http://drsketchy.tumblr.com/post/69132640329