Branch Blog - Auckland, New Zealand
Wed, September 08, 2010 • Dr. Sketchy Auckland goes to PRISON?
This Saturday: Dr. Sketchy "Auckland" goes to PRISON! One of NZ's South Island cities, Christchurch was hit with a 7.1 earthquake last Sat 4th Sept. Aftershocks have been continuing throughout the week (between 11 - 35 a day ranging from 3 - 5 on the richter scale). Because of this there has been evacuations to a lot of buildings in the city as many are no longer safe to live in. Christchurch's female prison is one of these buildings. They have evacuated all the prisoners to the Auckland female prison & are looking for activities to occupy the overflow of inmates (many of whom are now double bunking). To help, Dr. Sketchy Auckland will be donating our time to provide a Dr. Sketchy session for the female prisoners. Wish us luck! We will be updating regularly on this project as per Headmistress Molly Crabapple's request. This is a first. We feel very Johnny Cash right now.
RSS
NYC Events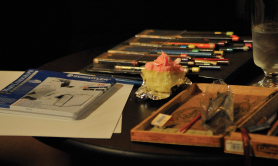 Art Tumblr
Dr Sketchy's LA 12/3/13 (pt. 1)
artofach.blogspot.com
http://drsketchy.tumblr.com/post/69132640329