Branch Blog - Auckland, New Zealand
Thu, February 16, 2012 • Dr. Sketchy Auckland & Krd Business Association do FASHION!
Oh hello Auckland based sketchers! Do I have a treat for you. Barbara Holloway of Krd Business Association has approached us here at Sketchy HQ with a very special request. She is orchestrating a Fashion Speed Dating night on Fri 24 February (a night where fashion newbies get to speed date with fashion experts), which will also feature a wearable art event with creative designers creating paper garments from scratch. She's very keen to have Dr. Sketchy sketchers take part as artistic documenters of the event rather than photography, sketching the designers & such at work.
It's also a perfect opportunity for any of you who are interested to meet some pretty experienced industry folk & have a chat about your work. Who knows, maybe even get some future work. Some of the heavy hitters include the Editor of VIVA, James Dobson Jimmy D, Dianne Ludwig Fashion Business Advisor and New Zealand Fashion Museum Trustee, Andrew Trott Artistic Director Trelise Cooper Group & The New Zealand Herald & Freelance stylist and The AUT School of Fashion amongst others. There is a small koha for those involved, & limited places. Email me on [email protected] if you're keen along with a little blurb detailing why you'd like to be part of this awesome evening of art & fashion!
Miss Lilly Loca will be there MCing the event, as will I. We reckon it'll be pretty fabulous (dahling).
We reckon we're pretty fashion! Yeah.
Photo copyright Bryan Lowe 2012. Do not use without written permission.
RSS
NYC Events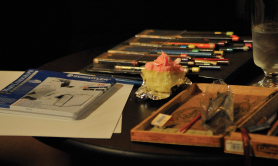 Art Tumblr
Dr Sketchy's LA 12/3/13 (pt. 1)
artofach.blogspot.com
http://drsketchy.tumblr.com/post/69132640329