Branch Blog - Auckland, New Zealand
Sat, October 30, 2010 • Dr. Sketchy Auckland loves Vampira!
After a slight delay to proceedings (alright, Leda forgot part of the costume) we were off with a bang. The perfect start to the Halloween weekend, we joined forces with Cassette 9 Markets to indulge our sketchers in an afternoon of free booze, creepy cupcakes & VAMPIRA! A big thanks to Karolina Kat for being an amazingly hot lady, even covered in the blood of babies. Oh & thanks Becks for all the free beer. You bring vampires & artists together.
RSS
NYC Events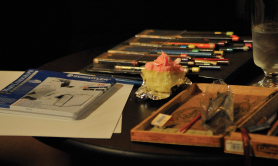 Art Tumblr
Dr Sketchy LA 12-3-13
http://drsketchy.tumblr.com/post/69027079376