Wed, January 04, 2012 • Dr. Sketchy's at A Center for the Arts in Fergus Falls
It's been a helluva weekend. Bad Weather Burlesque made its big debut in Fergus Falls Minnesota on Friday December 30. We did a burlesque show in conjunction with Joel Hegerle's art exhibit at A Center for the Arts in Fergus Falls.
Joel does wonderful mixed media pieces almost reminiscent of surrealist assemblages, but with a regional flare. He also does neon sign bending, and was even gracious enough to do some neon set pieces for the stage.
I was also invited to do a Dr. Sketchy's session with The lovely Miss Anytime Jones. I jumped in for a few poses as well. The session was backstage of the theatre, and it was the perfect mixture of visual art and burlesque. Our gracious host Michael made sure our glasses not runneth empty and even fed us fine cheeses so we wouldn't have to move to finish our cheese plates. It's not every day I'm fed wine by such a handsome man!
A special Thanks to Roxanne Gritt for her photo wizardry, the folks at Acenter for the Arts, Michael Burgraff, and our good friend Joel Hegerle for sharing the spotlight with us!
RSS
NYC Events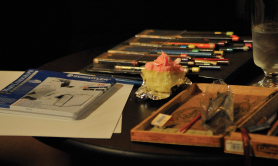 Art Tumblr
Dr Sketchy's LA 12/3/13 (pt. 1)
artofach.blogspot.com
http://drsketchy.tumblr.com/post/69132640329