Branch Blog - Wellington, New Zealand
Thu, February 17, 2011 • THANK YOU to Jo Weldon and Harem Honeys
Wow! What a wonderful sketchy session. the sun was shining, the mood was bright and we welcomes our very first American performer to Dr. Sketchy Wellington.
Jo Weldon
was a star, through and through. She lit up the stage. It was an honour and a privilege to have her. Massive thanks to the New Zealand Burlesque festival for bringing her and
Jonny Porkpie
over. Our other two models on the bill were
Athena di Lure
who was accurately described by regular Sketchy attendee Fifi as a 'pocket venus' and the delectable
Ruby Smooch
who dazzled with a wonderful fandance.
drawing by
Fifi Colston
We had two competitions: one was a team drawing where the person on the left drew the right half of the picture and the person on the right drew the left half of the picture. There was some fabulous team effort happening. Our other competition (aside of course from best dressed and overall models' choice award) was to incorporate 'New Zealandness' into the picture. I love the innovation of our wonderful artists, they never cease to surprise me.
At the end of the session we gave Jo a ponamu fishhook pendant. Ponamu (greenstone, or New Zealand jade) is a traditional gift and the fish hook represents prosperity. When explaining the symbolism to Jo later we used the old "teach a man to fish" adage, she referred to her own: "teach a girl to tassle twirl and she has a skill for life". Wise words. Dr. Sketchy Wellington is totally gay for Jo Weldon. Thank you to all who came along we had a blast, I hope you did too.
All photos by Pauline Autet
RSS
NYC Events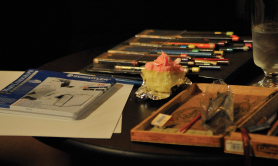 Art Tumblr
Dr Sketchy's LA 12/3/13 (pt. 1)
artofach.blogspot.com
http://drsketchy.tumblr.com/post/69132640329