Branch Blog - North Wales
Sun, April 03, 2011 • Like a fish out of water…
Last Sunday marked the first of the Dr. Sketchy North Wales "Sunday Schools" a chilled out relaxed version of the nightime fun and frolics. Our chatty little mermaid posed for up to 30 mins at a time giving the artists the time to draw and be swept away in the moment... It also gave me greater scope to talk to everyone who attended offering my titbits (!) of artistry know-how, mainly on turning your paper round, different ways to hold your pencils etc. Just experimenting really!
I thought this french poem very fitting. The little wave that was seasick.
Il était une fois une petite vague, perdue au milieu de l'océan, Une petite vague de rien du tout, quelques centimètres de haut, à peine plus large; Une petite vague insignifiante et anonyme, ressemblant comme une goutte d'eau aux millions de petites vagues voyageant sur les mers depuis des millions d'années, aux grés des vents et des marées. Mais, vous vous en doutez, si je vous raconte ici son histoire, c'est qu'elle était différente de ses petites soeurs; Pas physiquement non, mais dans son petit coeur de petite vague, cette petite vague avait bien du vague à l'âme.
Depuis des siècles qu'elle ondoyait à la surface de l'eau avec pour seul compagnie l'écume et le vent, avec pour seul horizon l'horizon, pour seul spectacle celui du jour se levant et du soleil couchant, La petite vague s'ennuyait à mourir et ne supportait plus de vivre au milieu de l'océan. Bref, la petite vague avait le mal de mer.
It was a lovely afternoon and I hope to put many more Sunday Schools on in the future!
See you there!
Madame Ex x
A big thank you to Roy Barry Photography & our Model Sarah Tonin Please do check out the rest of the photos on the Dr. Sketchy North Wales Flickr Page
RSS
NYC Events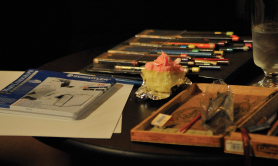 Art Tumblr