Branch Blog - Albuquerque, New Mexico
Mon, May 06, 2013 • Strong On The Fourth Were We
Our "May the Fourth Be With You" event was great geeky fun! The attendance was light but everyone was eager to get to drawing. We started off the night with some pointers on drawing the human form. I taught my eager students how to capture the models pose in a quick sketch that can be refined later. Most of the attendees came to this event to learn how to draw. They walked away with new skills and a new love of art. Mission accomplished. There was lots of laughter and good times were had by all.
Our main model was Vivian MirAnn of the Gilded Cage Burlesk and Varieté troupe. She posed wonderfully and the students were glued to their sketch books. I gave the students a few challenges to win some cool prizes. The first challenge was to draw our model as a droid. The winner got a vintage Star Wars toy for his drawing of a droid version of Vivian sitting on a toilet! I had no idea that droids pooped... Next they were challenged to draw her as the first ever Jedi/Wookie. The prize went to a young lady that showed remarkable progress in her sketching skills after only two poses. After a few poses from Vivian we had a group pose with Mistique, Scar Letta and Vivian MirAnn. Viv and Scar Letta were armed with lightsabers (glow sticks from the dollar store) and Mistique was in her U.S.S. Enterprise uniform. Of course they must fight! No models were injured in the making of this event.
I was pleased to hear that all who participated had a fabulous time and can't wait for the next Albuquerque Dr Sketchy event. They all said that next time they'll be bringing their friends along for the ride too! Now that the ball is rolling here in our new branch I forsee a lot more events in the near future. Keep your eyes on our event calendar for more.
Lou
RSS
NYC Events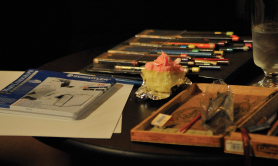 Art Tumblr
Dr Sketchy's LA 12/3/13 (pt. 1)
artofach.blogspot.com
http://drsketchy.tumblr.com/post/69132640329