Branch Blog - Albuquerque, New Mexico
I want to apologize for the lack of activity from our branch. We are still here and are planning our regular monthly events which you will see posted here soon. We have Paco Fish lined up for October and lots of other models waiting in the wings. Our branch will be doing a regular...
Read Full Article
Our "May the Fourth Be With You" event was great geeky fun! The attendance was light but everyone was eager to get to drawing. We started off the night with some pointers on drawing the human form. I taught my eager students how to capture the models pose in a quick sketch that can be...
Read Full Article
Our next event is in just a few short days. I have gathered a pile of fun prizes and have some fun art challenge ideas. I hope to see you all there for what will be a geeky fun time.
Our May 3rd event, Crash Course, has been moved to May 4th and is now called May The 4th Be With You. Thank you, that is all....
RSS
NYC Events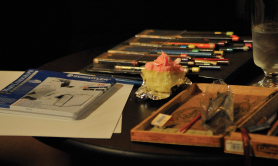 Art Tumblr
The results of tonight's Dr Sketchy's session :D
http://drsketchy.tumblr.com/post/69489605480