Branch Blog - Wellington, New Zealand
Sun, October 16, 2011 • Thank you Zombies Athena di Lure, Winnie Chester & Venus Starr
The Zombie apocalypse came and went at Mighty Mighty on October the 8th. We fought them off with pens and pencils... and some of us even became infected with the zombie virus ourselves.
Photo by Jon McGavin, Model the wonderful Winnie Chester, Make-up by Cyn Furneaux
We had such a wonderful time at our last Sketchy. There were zombie impressions by our audience, brilliant prizes from Calico Jacks given away, Play dough zombies made, Gas masks, burlesque, latex, blood, a true story of grave resurrection and a whole lot of drawing. What more could you want in an afternoon escaping the rugby world cup?
Miss Venus Starr usally looks so much prettier. Photo by Jon McGavin, Mask created for Monster Burlesque.
Even covered in blood Athena di Lure managed to look innocent and pretty. Photo by Jon McGavin
Drawing, drawing, drawing! Photo by Jon McGavin
Fire goddess Cyn Furneaux did an amazing job before the Sketchy pulling aprt the flesh of Rachel Rouge, our door babe Chantal and Winnie Chester. She did an amazing job!
Play dough Zombie army! MwahhahahahBRRRRAAAAiiiiNNNss. Photo by Jon McGavin
The winner of the best play dough zombie gets the zombie survival guide and a certificate. Photo by Jon McGavin
Some of the brilliant artwork created on the day. Photo by Jon McGavin,
RSS
NYC Events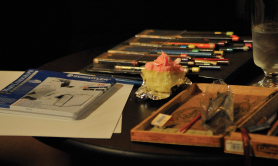 Art Tumblr
https://vimeo.com/81362468