Branch Blog - Wellington, New Zealand
Thu, October 25, 2012 • Thank You Atomic Ruby and Optimus Fine
We were awash with alien beauty and robotic fancy in October 2012 with Atomic Ruby and Optimus Fine.
Atomic Ruby sure shows us thatrobots are sexy too.
Optimus Fine, so cute and incredibly scary used multiple teeth to get her point across.
They finally battled it out - who was the winner? Only those who attended know. It certainly impressed as by the end of the session we were the recipients of a new sponsor, Flight Coffee. Thanks fellahs. Be prepared for some very awesome prizes!
RSS
NYC Events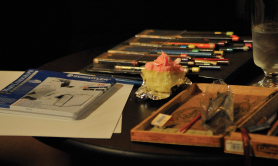 Art Tumblr
Dr Sketchy's LA 12/3/13 (pt. 1)
artofach.blogspot.com
http://drsketchy.tumblr.com/post/69132640329