Branch Blog - Wellington, New Zealand
Mon, August 13, 2012 • Thank you Courtney L'Amour, Fanciforia Foxglove and Sabina Vixen
August 2012 saw a team up of trio, dancing was Courtney L'amour (international burlesque star) and Fanciforia Foxglove (star of the stage), and singing Sabina Vixen (silken voiced siren) for a wonderful Western Wellington.
Courtney L'amour and Fanciforia Foxglove gave a thrilling lively dance to A Devil Went Down to Georgia. Sabina Vixen sang to us about Her Boots that are Made for Walking. The models provided much gorgeousness for Wellington artists, and everyone had a go at making art with yarn.
Sabina Vixen, glorious in red.
Courtney L'Amour snuggles up to branch mascot, James MacKay
Fanciforia Foxglove looks good in fringe and freckles.
We had such a wonderful afternoon of good music, great company and awesome models. Thank you.
RSS
NYC Events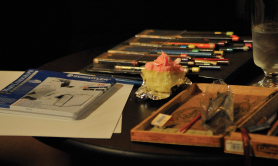 Art Tumblr
https://vimeo.com/81362468