Branch Blog - Wellington, New Zealand
Tue, May 11, 2010 • Thank you El Jaguar and Es Sposa X
Wow! What a wonderful wonderful Dr. Sketchy, The super clever Mexican luchador El Jaguar brought up feelings of empathy, hilarity, joy, pity and sexiness that all fused together and lingered in the Mighty Mighty air just long enough to be awkward.
As our local luchador crawls his way back to the middle using your laughs as stepping stones through the cloud of misery, he took the time to pose for your drawing pleasure. El Jaguar is in a continuous struggle to regain his mantle as has-been entertainer, he wrestled his inner demons in front of our very eyes! We saw his innate human frailties that made him (in his own bruised mind) the punching bag of life, we marveled at how someone so flawed has the gumption to wake in the morning.
Thank goodness El Jaguar's ex wife Es Sposa X arrived - late thanks to El Jaguar's attempt to jeopardize her arrival to bath in the glory and attention of the artists alone - to create a explosion of fun, laughter and lycra.
Es Sposa X is a professional wrestler, and a fashion designer, and a bounty hunter, and a whole list of other things. She used her professional expertise while judging the outfit-made-out-of-bubble-wrap competition and she enthralled us with stories of the many places she had travelled and lived, explaining her diverse accent.
Es Sposa X's power and control teamed with El Jaguar's desperate, yet adorable need to be loved.. and also liked on his facebook page, seems always to end in poignant and comic failure that exists only in his own mind. We drew, we laughed, we cried, we felt awkward, El Jaguar is brilliant, simply brilliant.
RSS
NYC Events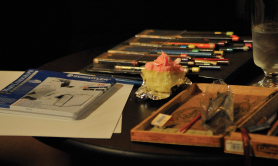 Art Tumblr
https://vimeo.com/81362468