Branch Blog - Wellington, New Zealand
Thu, November 17, 2011 • Thank You Ellie Kat and Bella Rose
November gave me (Miss la Belle) my first taste of running Dr. Sketchy Wellington, and I was so everly wonderfully assisted by two wonderful models, Ellie Kat and Bella Rose, and a sparkly emcee to boot, Crystal Mischief.
Crystal Mischief welcomes the crowd. photographed by Jon McGavin.
Ellie Kat quickly warmed us up with "Natural Woman" and provided us with a very saucy striptease to get us in the mood. We very soon discovered that both Ellie Kat and Rosa Belle were life models as they gave us wonderful poses to draw.
Ellie Kat exudes fun and naughty. Photographed by Jon McGavin.
Since the theme was all about balance - we had a balance a pencil on your face/head as you draw the models drawing competition which provided much laughter. Best-dressed was all about hoisery with Calico Jacks, and the 'add a Cat or a Rose' (Ellie Kat, Bella Rose, get it?) drawing comp winner won a wonderful book from Arty Bees bookstore.
Rosa Belle amazed and delighted us with a golden shower (glitter that is), and posed like a goddess in all her golden glory.
The golden goddess, Bella Rose. Photo by Jon McGavin.
Thanks to everyone who came, drank and drew, we hope you had as much fun as we did. We look forward to seeing you at December's Xmas themed Dr. Sketchy Wellington.
RSS
NYC Events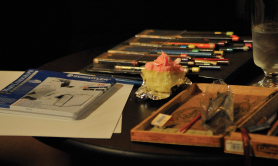 Art Tumblr
Dr Sketchy's LA 12/3/13 (pt. 1)
artofach.blogspot.com
http://drsketchy.tumblr.com/post/69132640329