Branch Blog - Wellington, New Zealand
Tue, March 20, 2012 • Thank you Fanciforia Foxglove and Siren Sweetsong
Kiwi Iconz rocked Mighty Mighty in March, we boogyed down to all sorts of kiwi tunes and were entertained by the delightful duo Fanciforia Foxglove and Siren Sweetsong who had us all giggling and dancing.
To start things off - Fanciforia was an elven bridal assistant to gilded voiced Siren Sweetsong. Frustrated at the nuptials, Fancifora ripped her clothes off.
Next up was a Shortland Street medical emergecy, with Siren Sweetsong picking a victim from the audience and ultimately making it worth his while.
Grand finale was a Topp Twin Tribute, with Camp Leader baring all.
All in all a wonderful afternoon from two delightful, witty and charming lasses. Thank you Fanci and Siren! Also big thank you to the beautiful door babe Chantelle Martin and your soon new addition to your household, Mighty Mighty and their amazing staff, and Jonathan McGavin for his amazing fotos. A big thank you to our Sketchy participants who blew my mind with their amazing etchings especially the ones. See you on 14 April for Dr. Sketchy Wellington goes Steampunk *skips*
RSS
NYC Events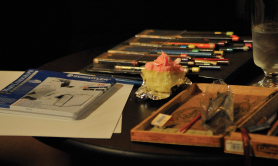 Art Tumblr
Dr Sketchy's LA 12/3/13 (pt. 1)
artofach.blogspot.com
http://drsketchy.tumblr.com/post/69132640329