Branch Blog - Wellington, New Zealand
Mon, May 14, 2012 • Thank you Honey Suckle and Bon Bon Rocher
May offered a Sweet-tooth Dr. Sketchy Wellington, with tons of treats and sweet sweet models, Honey Suckle and Bon Bon Rocher, with emcee Crystal Mischief.
Bon Bon Rocher kicked off our session with her Living Doll routine, first starting off all ruffles and lace, and then revealing an ultra sassy side and costume.
We had wonderful pictures for the competition - draw on a lolly wrapper. It was quite a challenge to draw on the miniscule waxy Minties wrapper.
Honey Suckle then treated us to her ultra cute, ultra sweet, Itsy Bitsy Teeny Weeny Yellow Polka Dot Bikini
There was some super double posing from our lovelies.
It wasn't determined who was the winner of the fight, but the artists won by getting some amazing poses and prizes (from Calico Jacks, Dittybox, Caburlesque, Baby Tattoo Books and other amazing places)
Models Choice winner proudly displaying her artwork.
Check out the photos from the day.
Everyone went home with sweet tastes in their mouth, and sweet women in their minds. Thank you to our wonderful and lovely and sweet and delicious models and helpers.
RSS
NYC Events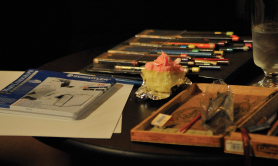 Art Tumblr
https://vimeo.com/81362468