Branch Blog - Wellington, New Zealand
Mon, April 30, 2012 • Thank you MisRed and LadySin
Words by Sadie von Scrumptious, images by Jon McGavin
For April in Wellington, we had a very special Dr. Sketchy... a three hour reverie in the world of steampunk. What is steampunk? It evokes a time and place that might have been, with Victorian garb and social mores wedded to high technology. A world where men are gentlemen, women are corset-wearing Difference Engine mathematicians, and everyone has a raygun and a brass-fitted laptop.
As befitted such a gathering of ladies, gentlemen, and rogues, Dr. Sketchy provided some of the finest Antipodean ecdysiast talent available. Our first performer , LadySin, brought the steam with oriental bellydancing.
Best Dressed featured the sartorially superior gentlemen in the audience. Soundmistress Winnie Chester determined the victor.
Then, MisRed treated us to a sexy, hilarious routine as a steampunk Mary Poppins.

For our finale, Lady Sin returned to the stage.
There was great audience feedback on the playlist, assembled by Crystal Mischief and emcee Sadie von Scrumptious. Abney Park and Professor Elemental were particular favourites.
Even our mascot, James Mackay, had a splendid afternoon, attracting the attentions of an admirer!
Kindly note that Lady Sin is bringing New Zealand's Steampunk convention, AetherCon, to Wellington on October 13th. The inaugural AetherCon in Auckland was a roaring success.
RSS
NYC Events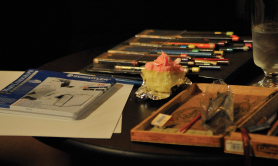 Art Tumblr
https://vimeo.com/81362468