Branch Blog - Wellington, New Zealand
Thu, July 14, 2011 • Thank you Miss La Belle's Beauties!
Thank you to
Miss La Belle
for introducing us to 3 of her wonderful and students who delighted the Wellington audience with both their performances and their posing.
The lovely Miss Susie Shandie, photo by Jon McGavin The afternoon was hosted by the curvaceous
Sadie Von Scrumptious
who gave our usual hostess Rachel Rouge the chance to sit down with her wine, sharpen her pencil and get drawing.
The striking Cyn Furneaux, photo by Jon McGavin Our three models were fiery vixen
Cyn Furneaux
, sweet Susie Shandie and elegant Talula Vavoom, all three are new to burlesque and have studied in the remarkable
Miss La Belle's House of Burlesque
. We were very proud of these ladies they are all wonderfully talented.
The sassy Talula Vavoom, photo by Jon McGavin Massive thanks to
Calico Jacks
for selling tickets and providing prizes, to Miss La Belle for all her wonderful work bringing this together and for her prize paces of hair pretties, tassels, stockings and a 6 week class that was won by the wonderful
Fifi
.
RSS
NYC Events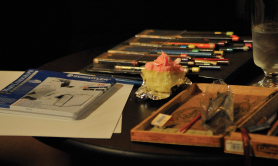 Art Tumblr
https://vimeo.com/81362468