Branch Blog - Wellington, New Zealand
Fri, September 16, 2011 • Thank you The Dreamstress
We were wonderfully privileged this September to have the immensely talented and wealth of costuming and historical knowledge of
The Dreamstress
.
The Dreamstress, Leimomi Oakes. Photo by Jon McGavin Leimomi Oakes (The Dreamstress) was wonderful she did a massive amount of research into three periods of art and costuming:
Rococo
, Victorian and
Edwardian
. She even created a
new corset
for the event.
Photo by Jon McGavin Her
dedication
and
passion
for accurate recreations of historical undergarments and the extent of her knowledge in the field is AMAZING
Photo by Jon McGavin While we drew and drank and while classical and Hawaiian music played Leimomi introduced us to the weird, fascinating and amazing world of the Georgians,
Victorians
, and Edwardians, we learnt what was acceptable (in the Rococo period, even female royally could turn up to a ball topless without causing too much of a stir) and what was not acceptable (you only wore a blue corset in the Victorian era if you were a woman of dubious morals)
Photo by Jon McGavin Her models Chiara, Joy, Rachel, Megan and Shell truly are
timeless beauties
.
RSS
NYC Events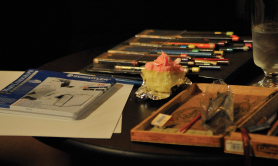 Art Tumblr
https://vimeo.com/81362468