Branch Blog - Wellington, New Zealand
Wed, November 17, 2010 • THANK YOU to MINGE theatre troupe
Massive thanks to MINGE feminist theatre group for an excellent Dr. Sketchys
Photo by Pauline Autet They came, they sang, they read, they puppeteered, they joked, they pimped
their show
, they posed, they philosophised, they sat amazingly still, they sold badges and zines and they rocked our socks off. MINGE theatre troupe TOOK OVER Dr. Sketchy Wellington in November and they did a FANTASTIC job! They stated that the political is the personal, and MINGE were very political indeed (especially during that reading on female ejaculation). Competitions included drawing onto/around/inside a diagram of a vulva,
Gavin Mouldey
won treats from
Peaches and Cream
adult store for his vulva-as-a-hat creation. Another noteworthy entry is below. Another competition involved writing about the most feminist thing that you hand encountered/done our fabulous winner was a shearer who can shear a sheep as well and as fast as any man, she took away a
mooncup
, and send waves of laughter though the room as its use was described to her. Other fabulous prizes included delightful goodies from
Calico Jacks
and tickets to see MINGE's show:
A Celebration and Interrogation of Womanhood in New Zealand
.
Photo by Pauline Autet An extra special thanks goes out to Ally Garret who put in loads of hard work creating a fabulously smooth afternoon and who hosted beautifully. Thanks to Ally our usual hostess Rachel Rouge, got to sit down next to her mum, sharpen her pencil and draw. =D
Photo by Josephine Hall
RSS
NYC Events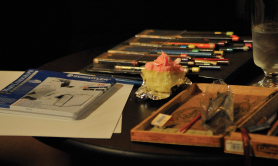 Art Tumblr
The results of tonight's Dr Sketchy's session :D
http://drsketchy.tumblr.com/post/69489605480