Branch Blog - Wellington, New Zealand
Mon, May 16, 2011 • THANK YOU to Plum Green and Penny Pins
As the Autumn softly gave way to Winter we were treated to two angelic girls, the sweeting singing
Plum Green
and the delightful burlesque babe
Penny Pins
.
Penny Pins photographed by Jon McGavin The mood was smooth and the drinks even smoother as Plum played guitar and sang and Penny dazzled with her characteristically enthralling burlesque.
Plum Green photgraphed by Alastair Moore There was a 4-person drawing competition, best dressed, pen-never-leaves-the-paper and oodles of prizes given away from amazing sponsors
Calico Jacks
(who will now be selling our tickets from here on in),
Carousel Cabaret
and Arty Bees bookstore.
Brendan on the Etchasketch photo by Jon McGavin Thanks to everyone who came, drank and drew, we hope you had as much fun as we did.
RSS
NYC Events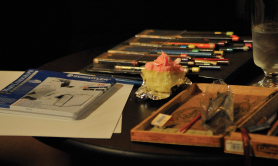 Art Tumblr