Branch Blog - Wellington, New Zealand
Wed, April 20, 2011 • THANK YOU to Richter City Roller Derby
A massive thank you to Richter City Roller Derby for their fantastic modelling and amazing feats of daring.
Photo by Pauline Autet On the 9th of May 7 stunning roller derby girls swooshed into Mighty Mighty and impressed us with their brains, beauty and bruises.
Orange Ruffie wins the sculling competition, she receives a pair of LadyTramp sequin pasties and her competitor receives a ticket to the next Richter City Roller Derby Bout. Photo by Pauline Autet Our models were: Lolo Morals stunning blocker from Brutal Pageant, Skända Läss who challenged our audience to arm wrestling and push-ups, Skatechel Hunter who used her art school knowledge to judge drawings, Isla B Damned fabulous Smash Malice rookie, Orange Ruffie who challenged and won a sculling competition against an audience member, Princess Slayer artist, teacher and stiltwalker, and last but not least Kiri te Karnage who helped this wondrous collaboration.
Photo by Pauline Autet They were all so amazing, fierce, bold, sexy athletic, witty and charming... everything we hoped desired and more. Thank you
RSS
NYC Events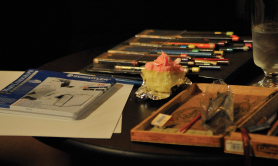 Art Tumblr