Branch Blog - Wellington, New Zealand
Sun, July 15, 2012 • Thank you Willow Noir and DeeDee Witt
Glam rock awesomeness a la Velvet Goldmine was the flavour of July at Dr. Sketchy Wellington. The sweet Willow Noir teamed up with the elegant DeeDee Witt and put on a show to remember.
20th Century Boy, Willow Noir and DeeDee Witt rocked the stage in fantastic energy fueled electric guitar and raunchy rock-god moves
Willow Noir was the Sattelite of Love as she roller skated around DeeDee Witt in a sweet and touching song.
As in most rock god fame, the tale came to an end when too much drugs and booze got in the way, leading to the ultimate descruction.
Thus ending their tale and our afternoon of wonderful entertainment and drawing. Thank you DeeDee and Willow for your wonderfully artistic stylings, fantastic hair and superb entertainment.
RSS
NYC Events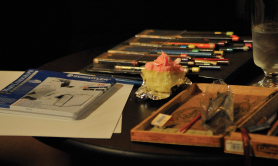 Art Tumblr
https://vimeo.com/81362468