Branch Blog - Auckland, New Zealand
Tue, April 10, 2012 • The Dreamscape Project
A regular of Dr. Sketchy Auckland, Vivien Masters, has started a new art project aimed at helping seriously ill and disabled children. In Vivien's words:
"This year I've launched an international non-profit collaborative art project called 'The Dreamscape Project'. This project will see me work with seriously ill &/or disabled children in Auckland and New York- but I need your help to make it happen!
I've started a fundraising campaign on crowd-funding site indiegogo.com. The money raised will help me to afford the cost of the art materials but most importantly, it will allow me to invest the significant amount of time needed to make this project a success. In return I'm offering rewards for donations, which range from hand-written thank you postcards with doodles drawn on them, to limited edition art prints, to original sketches created for the Dreamscape Project!
Please visit my campaign page for more info and to donate so that I can make art with these deserving children and young."
Take a look at The Dreamscape Project and enjoy and donate as you see fit. Vivien is a talented artist, and we're proud to have her as part of the Auckland Sketchy community.
RSS
NYC Events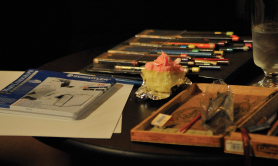 Art Tumblr
Dr Sketchy's LA 12/3/13 (pt. 1)
artofach.blogspot.com
http://drsketchy.tumblr.com/post/69132640329