Branch Blog - Wellington, New Zealand
Fri, August 12, 2011 • Tooting our own horn: Great article in Salient
Dr. Sketchy Wellington
is proud to have a wonderful write up in the August issue of Victoria University's mag Salient.
Photo of Eva Strangelove (now based in Austin, Texas, USA) by Alastair Moore. Many thanks to Zoe Reid for her interview with
Venus Starr
and many thanks also to editor Uther Dean for wading through the masses of photos of beautiful models to select the final cut. Full article can be read on
Salient's website
.
RSS
NYC Events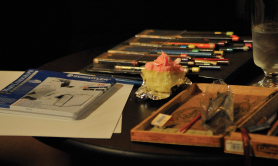 Art Tumblr