Branch Blog - Wellington, New Zealand
Tue, November 16, 2010 • TOOTING OUR OWN HORN: we're in the newspaper!
We just wanted to let you all know that Dr. Sketchy Wellington is the place to see and be seen (as well as draw and be drawn). We are in this week's 'People' section of the
Dominion Post
. Stylin.
RSS
NYC Events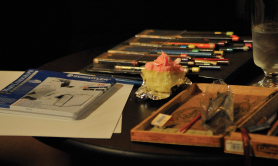 Art Tumblr
https://vimeo.com/81362468