Branch Blog - Wellington, New Zealand
Sun, October 16, 2011 • Worthy of Mentioning: Welcome new branch manager Grace la Belle
The Wellington branch of Dr. Sketchy's anti-art school is delighted to present new Branch Manager Grace *Busty* La Belle.
Photo by Jon McGavin
We are delighted to have Grace La Belle on board to lead Dr. Sketchy Wellington into a whole new era of drawing, performance, and shenanigans.
Rachel Rouge started up the Wellington branch in March 2009, she has now set her heart on travelling into the Middle East to stand in solidarity with the people of occupied Palestine (true story). Rachel figured it was going to be a bit difficult to run the Wellington branch remotely so found a perfect replacement to take the helm.
Grace runs Miss La Belle's house of burlesque and has modelled and performed for Dr. Sketchy Wellington and Dr. Sketchy Hamilton (or should we say Glamilton). She has also organised some of her wonderful students to model at Dr. Sketchy too.
As well as creating beautiful hair pretties, and running her own burlesque school Miss La Belle also produces Frolic Lounge, a regular showcase of her burlesque students, always bubbling over with vivacious and talented ladies.
Rachel parts with Dr. Sketchy Wellington mascot. Photo by Jon McGavin
On October 8th 2011 Dr. Sketchy was officially handed over to Grace, the initiation (a word totally forgotten by incumbent Rachel Rouge at the time) was caught on film.
We wholeheartedly welcome Miss la Belle, We love her, her enthusiasm, her hard work, her balance of fun and organisation and her sparkling personality. We know she is going to take the Wellington branch to new and glittery places.
Congratulations Miss La Belle and cheerio Rachel Rouge, it's been swell.
RSS
NYC Events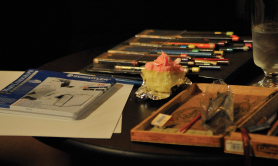 Art Tumblr
https://vimeo.com/81362468