Branch Blog - Nashville, TN
This SUNDAY 8/15/10 we are proud to present Dr. Sketchy's Wrestle Mania Session! We are pleased to announce our (male) model will be Josephus The Shelby Street Brawler. We are thrilled to have a talented and trained wrestler to pose for your artistic enjoyment!
Miss Lolly Pop & Diletta...
Read Full Article
Dr Sketchys just got our paper sponsorship for Dr SKetchys at Bonnaroo! Whitelines paper company in Sweden! They are one of the first paper vendors in the world, if not the only, to use the CARBON FOOTPRINT labelling. Im so thrilled! Thank you Molly Crabapple our frealess Sketchys leader...
Read Full Article
RSS
NYC Events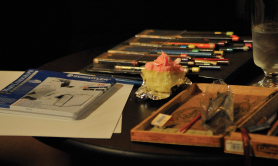 Art Tumblr