Branch Blog - Knoxville, Tennessee
To say that Dr. Sketchy's Knoxville (DSK), had an opening session on Sunday, September 18th, 2011 that was a rousing success would be understated. It was INCREDIBLE. Purposely held as a "soft open" session with social network marketing only; we aimed to produce an event that met with...
Read Full Article
Knoxville is getting sweeter every day...and here's the proof: a Dr. Sketchy's Anti-Art School will be opening soon in Knoxville, Tennessee! Awwww yeah....you read that right, the anti-art school movement that combines cabaret, sketching, booze, dames, revelry and more is setting up shop...
Read Full Article
RSS
NYC Events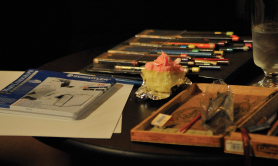 Art Tumblr
Dr Sketchy's LA 12/3/13 (pt. 1)
artofach.blogspot.com
http://drsketchy.tumblr.com/post/69132640329