Branch Blog - Shanghai, China
Fri, October 04, 2013 • RECAP of the Dr. Sketchy's Shanghai Launch—World Over with Meredith and Aliang!
This past Sunday, September 29th marked the launch of China's first and only Anti-Art School, Dr. Sketchy's Shanghai, in an event called World Over. We packed the house (Yayyyy!!!) with honored participants as our Wayward Travelers, Meredith and Aliang, spent 3+ hours getting into a world of mischief at YYs for the betterment of fine motor skills everywhere, or at least the ones that were in the room at the time.
Meredith is a locally-based model/actress/choreographer/director/producer, but we settled for "Lady of the Performing Arts" on her business card and "co-director" on the program, because she directed the crap out of the first half of the show. Joining her onstage was her boyfriend and former model Aliang, who is just so cute I can hardly stand it. Just look at them together.
Like sexy baby giraffes, these two.
Floor projector and at least three taxis full of foamboard props at the ready, the two of them embarked on their evening's worldwide itinerary in Paris with our first 20-minute section of poses entitled "The Tour Eiffel." (Get it?)
With very little coaxing, our participants were off!
Our stage manager/makeup artist Shayla took a photo of the couple and set the mood for the rest of the evening.
Aliang should've known better than to check out other women.
In the end, she forgave him.
Section 2 took us to the Americas for Strangers on a Train. (Which Americas exactly? The world may never know.) Badass silkscreen/art/t-shirt company Twin Horizon offered up an original print and a T-shirt for the ghastliest drawing in this section, but we didn't get pictures of those things because we're not that organized yet. (Cut us some slack. We had a lot on our minds.)
The Stranger meets her mark.
GASP! He's an undercover FBI agent! However shall she get out of this one?!
Disarmed, buddy.
Like Meredith, our tiny stage tastefully left little to the imagination.
Every once and a while, Elaine (right) and I would get up and say stuff and be generally amicable in English and Chinese.
Generally.
Just check out how sane and trustworthy we look. That right there is some quality hosting.
Moving on.
For section 3, upscale lifestyle site Shanghai Wow! sponsored a comic strip contest for the Wayward Travelers as they continued on to the South Pacific. Trouble ensued.
Okay so I don't know how else to say this, you guys: Meredith got murdered by a dinosaur. Straight up, right in front of everyone.
A well-deserved intermission found the Travelers revived, rejuvenated, and repositioned for the long hauls.
Strictly Cookies, a local cookie company that the Internet's Megan Amram Tweeted about once (honestly), sponsored our "Creation of Aliang" contest, in which participants incorporated dessert items into the following scene:
Moving into the Middle East, our Travelers found themselves sitting in for Shahryar and Scheherazade in 1001 Arabian Nights and a Night. Tying into the theme of spinning yarns, Infinite Twist, a locally-based handmade yarn, knitting kit, and fiber company sponsored the "best unbroken line drawing" contest for this one.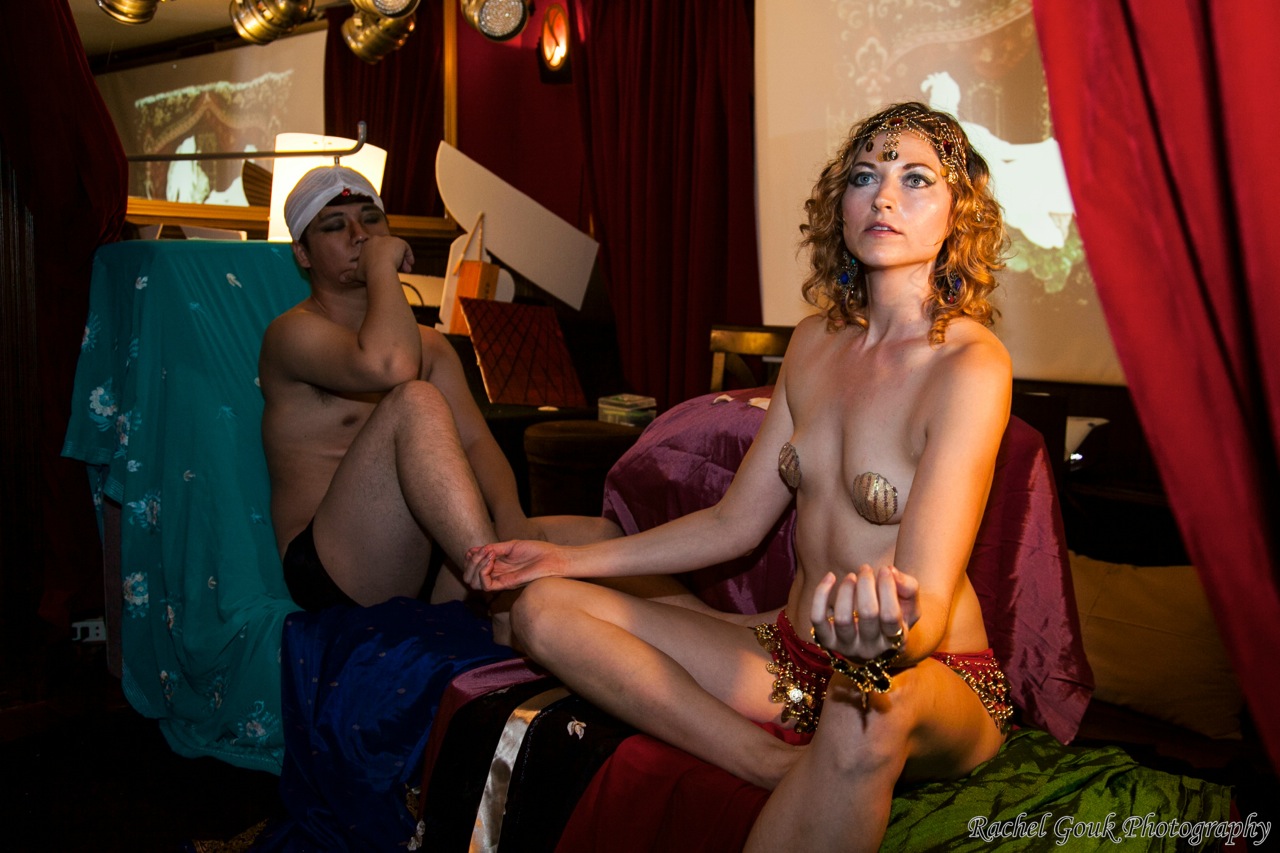 Then, with two more sections to go, the couple rushed to Egypt to steal the places of Isis and Osiris in the hieroglyphs like two nearly naked Carmen Sandiegos. Sweet Liquor Ghost (available at the Infinite Twist booth at Jiashan Market), a handcrafted bitters/liquor company, offered a 400RMB gift certificate to the best propaganda poster to come out of this section.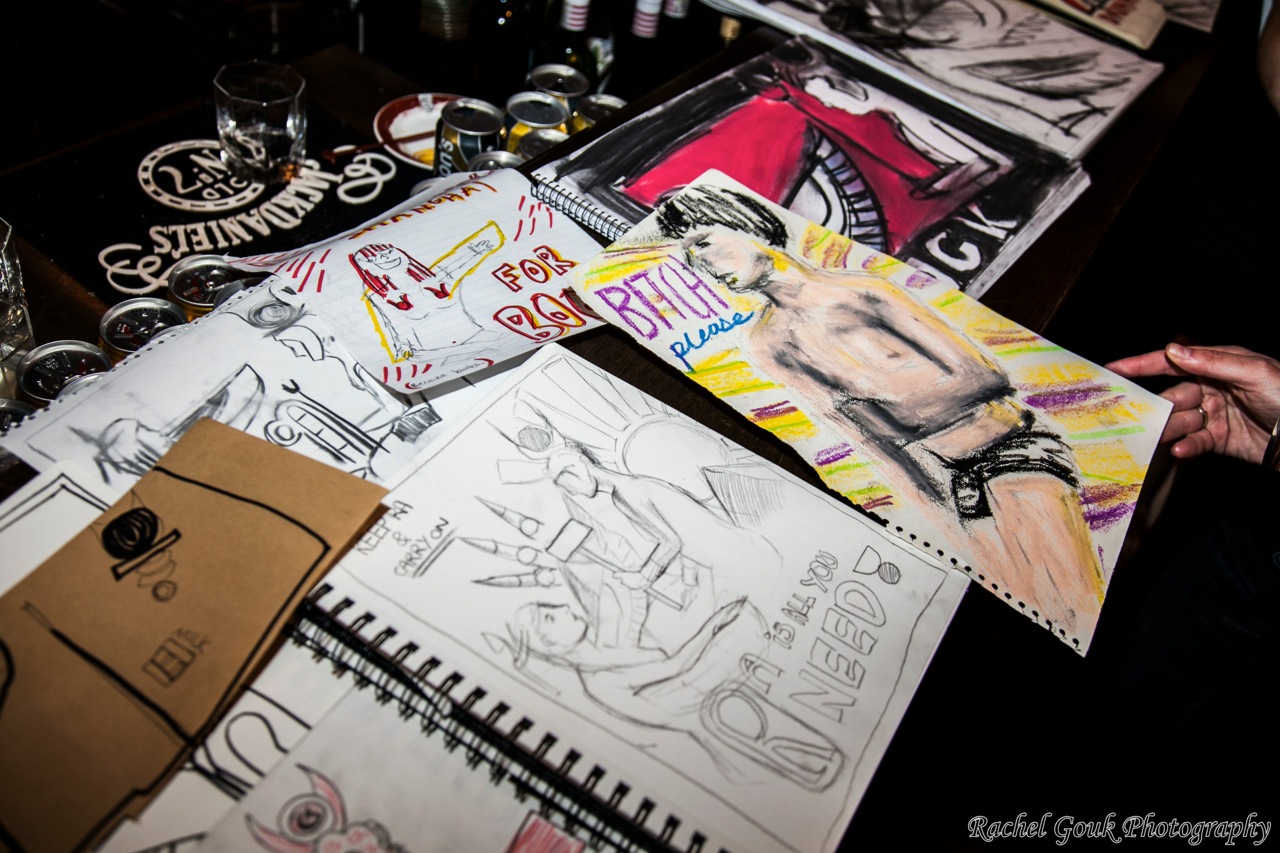 Our happy contest winner!
Returning to Shanghai, our Travelers revealed their true identities, saying goodbye and blasting off among (or at least in front of) a bevy of paper lantern UFOs in our final section, Extraterrestrial. Encouraging our participants through the final stretch was the promise of a pint of malt whiskey ice cream for the winner of the final contest, "best replacement of our models as a famous duo," sponsored by all-natural ice cream company, Snow Maple Desserts.
Here's Chris, one of our delightful and bebowtied Art Monkeys.
Special thanks to my Bloc comedy open-mic night co-founder and bff Mike Corayer (pictured) for running Valentin Cortez's outstanding playlist according to Meredith's music cues because she's a theatre director who knows what the effword she's doing.
De-makeuped and re-frocked, Meredith and Aliang returned to the land of participants to share in the very special memories they had helped create.
Before I sign off, I need to issue some doubletroublesuperthanks to the following people for making World Over happen:
VALENTIN CORTEZ for his hours of work and consideration into our evening: If you ever find yourself in Yangshuo, China, hit him up on WeChat (fiesta-gnome-1) for the best bespoke gourmet dinner of your/your small party's life.
LEIA LUO for her hours of work helping me translate things, getting the site up on Douban, and spending days making props and making Taobao happen as my brain melted into all the press emails I needed to send. (She's also a very funny stand-up comedian who co-hosts and edits our periodically released online video nerd series, The Cultural Exchange.)
SHAYLA ALFONZO for her incredible capacity for stage management, talent at many different makeup changes under pressure, and enthusiasm for being the first butt we saw that evening.
RACHEL GOUK for sick photography constantly. Just beautiful stuff.
EMILY KING-CLARK for floor managing like a boss and keeping my brain from exploding like 8 times.
KATY ROSELAND of Basement 6 Collective (home of Shanghai's branch of No Lights No Lycra) WHERE WE WILL HAVE OUR NOVEMBER SHOW for making the pasties and being a DIY goddess to level worlds.
KENNY and the YY's STAFF for giving us the bar and being the sweetest people in the world about it.
ELAINE CHOW for being my Chinese-language co-host and dealing with the fact that I was constantly forgetting to shut the hell up.
MILLA YANG for assembling the pieces of the Chinese-language poster.
JOHN, YVONNE, and MICHAEL for holding it down backstage.
GINA, CHRIS, YIJIA, YING, and ASHLEY for being the best Art Monkeys China has ever seen!
SHANGHAI247.NET for sharing the story.
CHELSEA, APPHIA, and MIKE C. for writing me the recommendation letters I needed to get in the door.
MOLLY CRABAPPLE and MELISSA DOWELL for founding and managing this beautiful monster (and dealing with me, like, all the time).
...And finally, to ALL THE PARTICIPANTS who were magically amazing and talented and great sports and made this evening a reality.
NEXT STOP: Basement 6, November 16-17
Stay Tuned.
RSS
NYC Events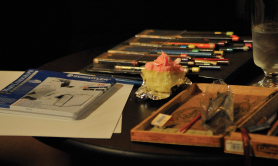 Art Tumblr
https://vimeo.com/81362468