Branch Blog - Shanghai, China
THE BIG SHOW IS JUST FOUR DAYS AWAY! (For 100 RMB presale tickets, please send us an email to reserve and then pick them up on or before Friday, November 15 at Bloc!) In honor of this weekend's upcoming 2-fer sketchstravaganza, Bare Bones, we'd like to give you some...
Read Full Article
This past Sunday, September 29th marked the launch of China's first and only Anti-Art School, Dr. Sketchy's Shanghai, in an event called World Over. We packed the house (Yayyyy!!!) with honored participants as our Wayward Travelers, Meredith and Aliang, spent 3+ hours...
Read Full Article
RSS
NYC Events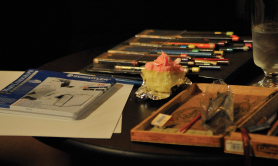 Art Tumblr
https://vimeo.com/81362468